(20×20 cm/ appx. 8×8 inches)
steps required:
Most services are rendered on a voluntary basis by members of our Non-Profit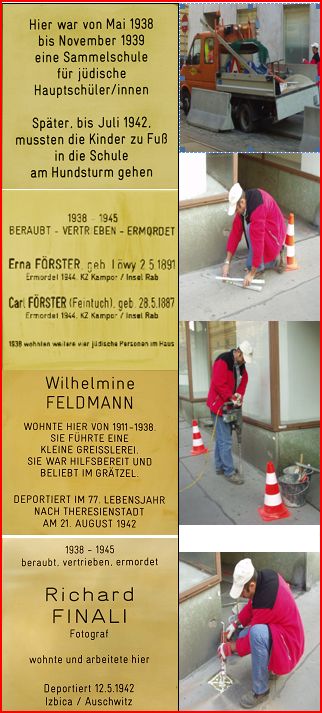 Association.
Preliminary work (unsalaried)
Research on the fate of Jews from the Third District of Vienna who had been persecuted by the Nazi-regime. Updated results are added to our electronic database and published on the internet (steinedesgedenkens.at ). This enables survivors and descendants (sponsors) to find facts and apply for a memorial tablet.
Research on potential memorial spots.
Action (unsalaried)
Correspondence with prospective parties.
Establish site, photographic documentation to obtain official approval.
Inspection of site by contractor Teerag-Asdag (opening of side-walk).
Signing of contracts with Town-Magistrate 28 (Road-works), Magistrate 7 (Cultural Affairs), construction firm, liability insurer.
Requests for subsidy from public authorities and sponsors.
Administration of the financial contributions from interested parties, sponsors and public entities.
Finalizing the text of the memorial tablet in cooperation with interested party (sponsor).
Technical expenses (for professionals)
– Commissioning of the production and installation of the tablets (engraver, technical coordination, sidewalk-work)
– Supervision of contractors and their payment.
– Opening event, public relations (mass media)
– Monitoring of installed tablets, repair of damages, cleaning.
| | |
| --- | --- |
| Raw material and technical coordination |  239,– |
| Engraver |  140,– |
| Contractor Porr, side-walk-work |  310,– |
| Insurance and maintenance |   50,– |
| Opening, research, various cost |   50,– |
| Sum | 789,– |
| Value added tax 20% | 157,80 |
| Total appx. | 946,80 |
All prices in Euro.
We need to charge a minimum contribution of € 510,- . Our Committee tries to obtain the remainder of the expenses through donations and contributions.
Vienna, 10. August 2016   Dr. Elisabeth Fritsch, Treasurer and  Mag. Gerhard Burda, Chairperson
Bank-account: Immo-Bank Wien 
Steine des Gedenkens
IBAN: AT53 4705 0308 0561 0000
BIC: VOHGATW1XXX